If you have used the axes to split a pile of wood, then you probably know how hard and time-consuming this process can be.
A good log splitter might be all that you need to cut all pieces of hardwood and softwood for various purposes.
Log splitters are pieces of equipment that can save you a lot of time and protect your arms from the heavy strain that you how to deal with after splitting a lot of wood logs.
Splitters come in 3 different categories; manual, electric, and gas. Each type comes with a list of pros and cons. Studying them will allow you to pick the best model that suits your needs.
What is Manual Log Splitter?
Gas log splitters are tough and can work for hours. They can split up to 45 tons but they are rather expensive.
Although they have a high splitting capacity and can be moved easily, they produce a lot of poisonous fumes. Gas log splitters are not the best option to consider when you don't really have to split a lot of wood.
Using one for your fireplace or garden needs might be too much. Electric log splitters are more affordable than gas log splitters but have a lower splitting capacity.
Although they can be easily towed and moved around, you need to make sure that you still have access to a reliable electricity supply source.
They are good to use at home but will not be that functional in remote areas where you don't have regular access to electricity. Using an electric splitter in the garden can be a little bit challenging.
Manual log splitters are the perfect ones to use if you don't have a lot of splitting needs. They are light, portable, and quite affordable.
They are suitable for occasional users who don't usually spend a lot of time splitting woods for the fireplace or other domestic needs.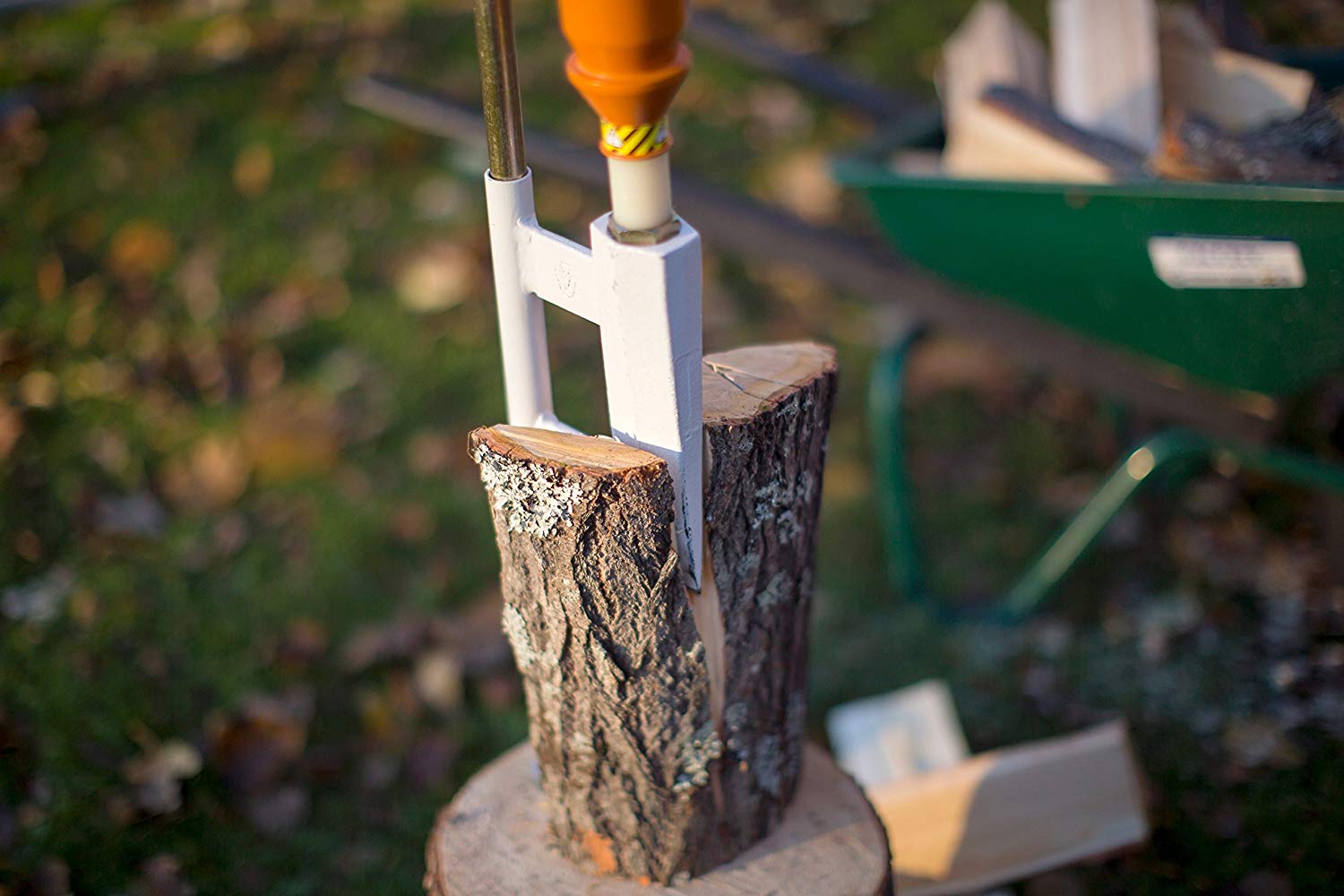 firewood-for-life.com
Homemade Manual Log Splitter Hacks - Do Your Own
A manual log splitter is very easy and convenient to use. You can take it wherever you want and it is very easy to carry around.
You don't need oil, gas, or electricity, just your energy and you will be good to go. If you are looking for a more affordable option, you can also build your own model.
You need to have a hydraulic piston to work your manual log splitter. Your splitter will typically have two handles that move back and forth, in a way that is similar to pumping a jack.
The piston forces the piece of wood through a wedge which eventually splits the wood the way you like it.
In that sense, the splitter works exactly like a gas log splitter would, except that it uses your manual energy instead of gas.
You can also use a slide hammer or manual log splitter if you don't have to deal with a large amount of wood. It is lightweight, portable, and inexpensive.
It is the perfect choice to split small amounts of hardwood, softwood especially if your logs have a small diameter. The slide hammer technique depends on a wedge that is attached to a pole.
The sliding hammer motion uses your manual power in addition to the force of gravity to slide the wedge into the wood until it is perfectly split.
You don't really have to break the wallet to buy expensive gasoline or an electric splitter. In fact, manual log splitters work just fine even if you have to deal with a large amount of wood.
Your own homemade manual log splitter can do the job while saving you a lot of cash.