Chainsaws happen to be among the quickest tools available for cutting. These are different types of Chainsaws available in varied designs and can be used to handle various cutting tasks.
Whether you are a landscaper, a logger, or just a homeowner, you can save a lot of time in your cutting jobs with a good chainsaw.
But there are some safety measures that should be maintained while you operate the chainsaws. You must read the manual of the chainsaw and you should maintain the same during its operation.
Apart from that, it is suggested to wear all safety tools such as helmets, gloves, and special footwear during cutting jobs.
Types of Chainsaws
Arbor Chainsaws
Arbor chainsaws are necessary for landscaping projects, and for removing branches and limbs quickly from trees.
These are designed in such a way that anyone can start them without needing to keep them on the ground and hold them under their feet.
These kinds of saws and light and compact enough to be easy to use even on ladders.
There are no risks of going off-balance. These are the only saw models that can be used for three cutting.
A lot of training is needed to ensure the safe and proper use of these saws.
Even you can also cut the tree stumps with this chainsaw and it is suggested to ask the dealer of the chainsaw to know its operation.
visitmontanejos.com
Pole Chainsaws
These happen to be the longest chainsaws and come with a shaft that is quite a few feet long and affixed to a bar comprising of a cutting chain.
The real bar is extremely short, similar to arbor saws, and is generally about 1 foot long.
These can be used for cutting off tree limbs. As compared to arbor saws, pole saws let you stand on the ground firmly while working.
This is your chainsaw if you mainly need one for pruning and getting rid of:
Low-hanging branches
Tree limbs
Twigs
Pesky projections
It actually consists of an extendable shaft with a miniature chainsaw attached to it. It offers the safest way to trim branches that are tough to access.
The pole can be extended to 15 feet so that there is no need to cut branches from an old, unstable ladder. These are very compact saws, and not designed to handle bigger cutting projects.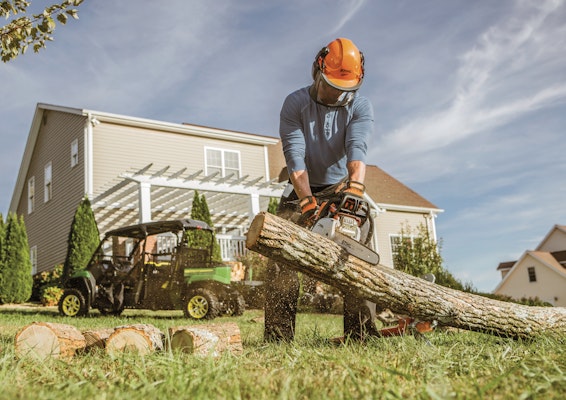 stihlusa.com
Bucking Chainsaws
These are bigger in size than arbor saws and capable of running chains on bars of middle size.
These chain-saw models are used for felling woods and trees into smaller wood bits, to be used often as firewood.
Bucking saws can be perfect choices for you in case you require a slightly lightweight model that can be used over a period for quicker cutting results.
These come with a more ergonomic design and can be used more easily while felling woods for gathering firewood.
But the saws have smaller engines and are not designed to be used for bigger logging projects.
According to Wonderland Gardens, these chainsaws are the best choices for homeowners living in the city or in suburbs.
Felling Chainsaws
These are some of the most powerful chainsaws available today. These come with extremely long bars, and can also support bars more than 3 feet long in some cases.
Felling chain-saws can be used for cutting down whole trees.
As these use more power than is needed for heavy-duty projects, the saws are generally the loudest and largest of all the chainsaw models to be found on the market.
Conclusion
It is suggested to search these different types of chainsaws online and read their features before buying.
You can also compare their prices and then you can choose the best chainsaw according to your needs from these online portals.