Whether you are a rookie or a veteran house owner who wants to turn their living vision into a reality, having the perfect boat shed ideas in your arsenal will always come in handy.
Boat shades or boathouses are buildings that are built at the edge of the water and are usually made to keep boats.
So without further ado, let us dive right into the inspirational boat shed ideas and pictures.
21 Boat Shed Ideas, Pictures for House Owner
Simple and Comfortable Aesthetics
The thing that differs the most we compare any regular house to a boathouse is the relaxing and comfy environment you are surrounded with.
A white finish to your simple boathouse will make the vibe even more calm and cushy. And nothing beats the rustic yet homely feeling this boat shed design provides.
Photo source: Unsplash.com
---
Boathouse Cottage
If you are looking for something modest yet playful at the same time, this boathouse cottage construction is for you. This gives you a hand-to-hand experience with nature but still lets you enjoy the functionality of a modern-day house.
This construction is great for someone who is looking to utilize their boathouse for a great vacation or long weekends.
Photo source: pinterest.com
---
Luxurious Boat Shades Design
If luxury is what you are striving for, it does not get any better than this. The refined elegance that this resonates with is immensely beautiful to the eyes.
And the natural wood planks on the walls offer a reconstruction of the natural vibe. The overall luxury is elevated by the marble tile used on the sides.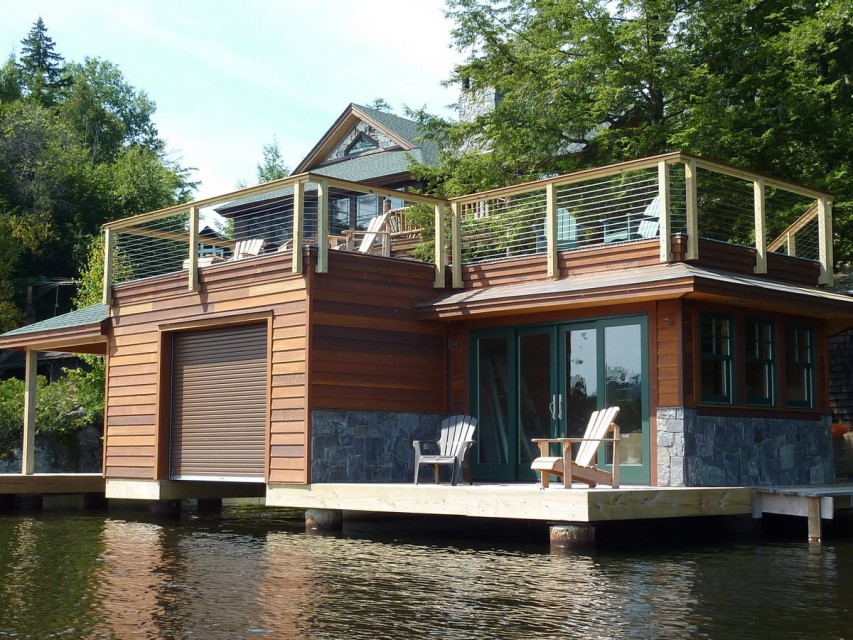 Photo source: pinterest.com
---
Modern Boathouse
The modern design of this boathouse creates a thin separation between nature and modern-day living. But it also lets you enjoy both at the same time.
The boathouse has a two-story that you can take inspiration from.
The windows let you enjoy the natural lights in the daytime and also have sophisticated modern lighting for the night.
Photo source: pinterest.com
---
Blue Boathouse
Nothing compliments the color of the wild and free ocean other than blue. Blue makes you feel safe and invokes a feeling of calmness that surrounds you while you enjoy the natural beauty of water.
And if you are someone who likes the depth of the vast ocean and sky, this design will perfectly resonate with you.
Photo source: flickr.com
---
Metal Boathouse
Are you a fan of the sturdiness and minimalist vibe that a metallic design brings? Then you are in for a treat. This expanded metal houseboat is highly functional and a minimal metal boathouse is a utilization at its finest.
This metal construction is highly protective and will last a lifetime with a perfect weather coat. So if you are a DIY enthusiast and like to play around with metals, then you should give this plan a try.
Photo source: pinterest.com
---
Best Architectural Boathouse Design
This boathouse is designed at its finest with great architectural aesthetics. The design comes with a subdivision of the whole placement of the shed in both water and land.
There is no negative space on the layout. The open staircase is sure to make a connection between the vast water and the open sky.
The boathouse has 3 levels and can be utilized to accommodate your personal choice of rooms.
Photo source: archdaily.com
---
Glass Boat Sheds
Little do we know, glass is one of the most Eco-friendly materials to build your house with. This glass boathouse is Extremely Versatile and highly attractive.
The composition removes the need for any additional lighting and lets us fully utilize the natural light to its maximum potential.
The glass layout is also great for mental well-being, as it lets us respond to our natural cycle effectively.
Photo Source: homeandecoration.com
---
A Homely Twist with Nature
This layout is the perfect marriage between home and nature. The layout is cozy and friendly, with a porch to sit down and enjoy what nature has to offer.
The green color goes well with the environmental factors of the surroundings and takes you one step closer to the enchanting natural beauty of trees.
---
A Waterside DIY Mansion
Over the years, people have been getting more attracted to building a place to store their boats while keeping an elite draft in mind. And this mansion-like design is certainly one of them.
This plan creates a functional space that is breathtaking to look at in addition to a fabulously designed living space upstairs.
Getting off of your boat and getting up to the living space is an experience that speaks for itself.
Photo source: mansionglobal.com
---
A Classic Interior
The interior of a boat shed is much more important than it seems to our eyes. A classic interior plan like this one drastically improves the quality of living.
The natural wood finish to all the floor, as well as the decor, gives a classic vibe that many of us love. And nothing screams out sailing more than a classic wood interior.
Photo source: pinterest.com
---
An Artistic Boat Shed Interior
When it comes to art, there is no such thing as perfection. As taste varies from person to person, you can take inspiration and build something that speaks your language.
This artistic interior design speaks volumes about the culture and the eye of the user. It is unique, personal, vibrant and everything else you want from your boat shed experience.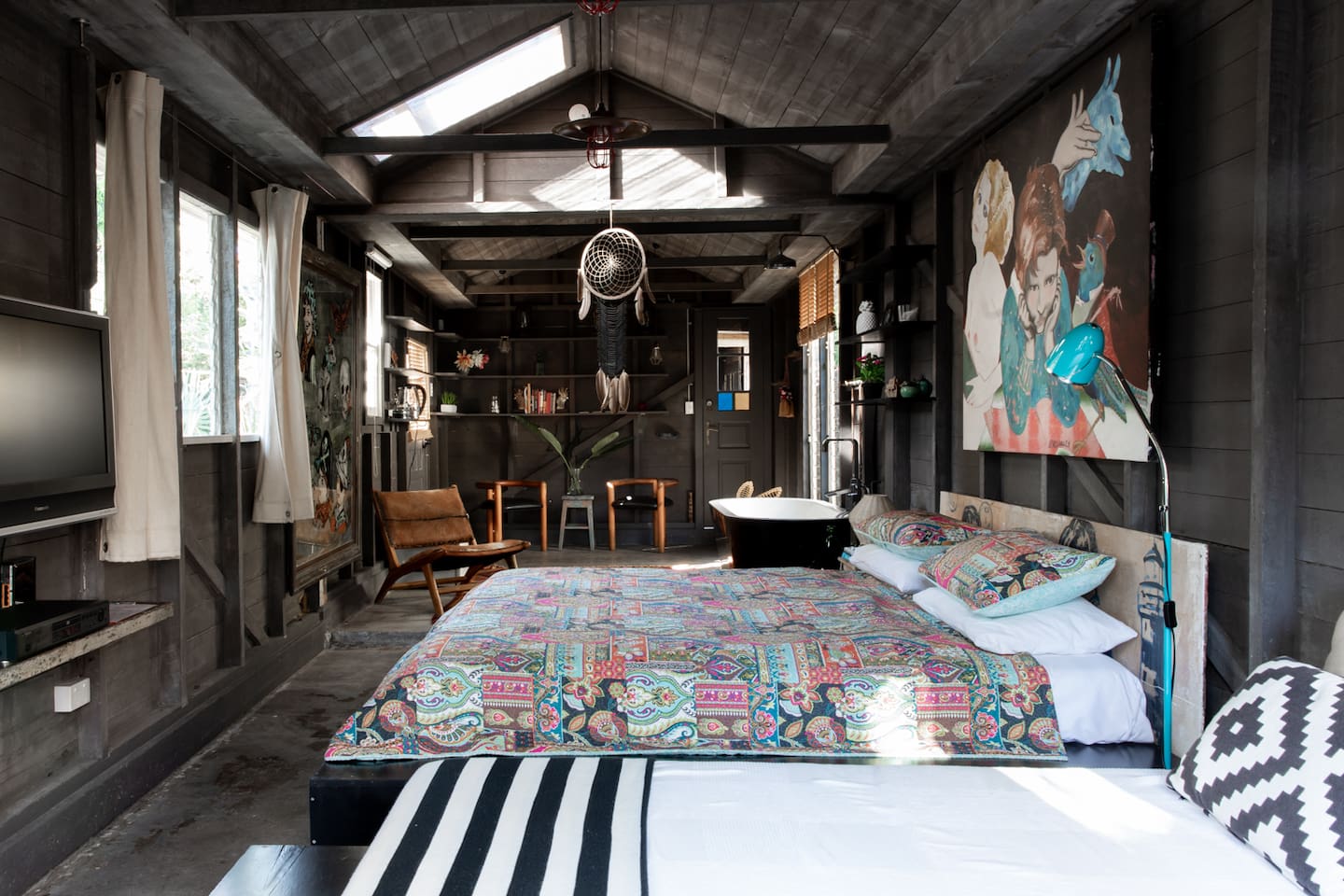 Photo source: airbnb.com.au
---
Open Roof Boathouse Design
Wanting to enjoy the outdoor weather while being protected inside your boathouse? Then this open-roof boat design was meant for you. The plan utilizes the most impressive way of getting natural lights inside your modern boat shed.
The fluctuating height of the roof gives you a sense of the wave that waits for you outside. And the rustic wood finish to your floor takes this modern design to a whole new level.
---
Traditional Boat Shed with Modern Living
Living in a city beside the riverside may increase one's urge to build a boat shed. And if that is the case, this minimal and traditional boatshed plan is here to the rescue.
The two-story compact boatshed is built to keep your boat inside while leaving you with plenty of space that you can utilize according to your own liking.
The outline is simple but holds all your personal designs personally and for only you to enjoy.
Source: Unsplash.com
---
Lakeside Boathouse with Patio and Docs
If you are looking for a presentation that can be used as your main residence with a big family as well as serve all the functional needs of a place to store your boats, then this is the layout for you.
But keep in mind that, a boathouse of this size will require a long planning period beforehand to ensure a fruitful outcome.
But once done, you will be able to enjoy a lake house with a beautiful view, a patio to relax with your family and loved ones, and an overwhelming sensation of nature.
---
Small Wooden Design
If you need a highly functional and small boat shed that lets you enjoy the beauty that nature has to offer, you should look at this plan.
This small private boat shedding has a warm wood tone and a minimalist decor that goes well with the overall size and beauty of the piece.
Photo source: cabinlife.com
---
Minimal Boat Dock
If all you want is a functional boat dock that can store your precious boats when need without any additional or overwhelming space for convenient living, then this configuration is what you should take inspiration from.
This boat dock comes with a shedding roof from where you can enjoy the weather and take a moment for relaxation.
---
How Much Do Boat Sheds Cost?
And if you are willing to build a decent-sized deck with additional space for functional living, the cost can go up from $40,000 to $50,000.
Conclusion
Building a boat shed requires a great set of eyes for vision and implementation.
And these boat shed ideas and pictures are here to help you on the road towards soaking up all the inspiration you need.
Your car needs a garage to be stored securely. And just like your car, your boats also need a secure boat shed to save from unpredictable weather, natural disasters and so much more.
The design ideas and inspiration you gathered from the pictures will help you build your own personal boat shed that offers a perfect storage solution for your boats when it is not boat season.